Twintervention: Kicking the Twitter Addiction – Zero Hour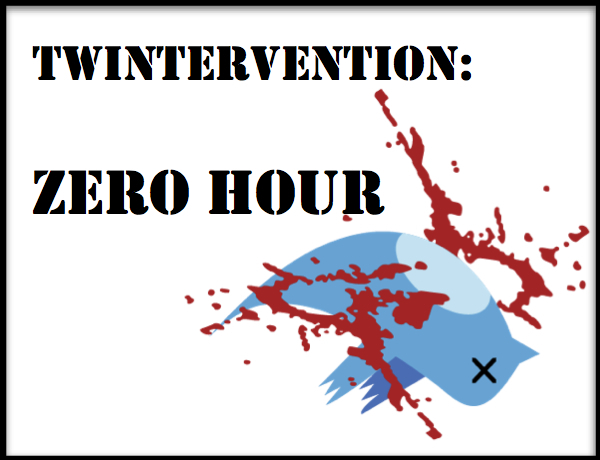 I have officially quit Twitter.
Don't get me wrong. It's been a lot of fun. Too much fun in many cases. But, I'm now addicted to Twitter. It is taking over more and more of my time, effort, and energy. In addition, I'm just becoming way more emotionally attached to my Twitter friends than I have any right being.
"So what?" you ask. "Just because you like it a lot doesn't mean you're addicted to Twitter."
Au contraire, mon ami. As a relatively addictive personality, I'm very aware exactly how addicted I am. No one should be waking up early, just so they can blow off work and tweet for 2-4 hours. No one. Maybe it's not a warning sign to you, but when I've been too busy making stupid jokes for half a day that I haven't taken my daughter outside to play in the sunshine, I know there is a serious problem.
In short, Twitter is my own personalized crack. It has been specifically designed to feed all my vices. Constant attention. Instant gratification. A community atmosphere. Affirmation, competition, innovation. In addition to just the amazingly wonderful (and often attractive) people that are willing to tell you basically anything you want to hear.
It's my kryptonite.
"But that's crazy," you say. "It's just social media, like Facebook or LinkedIn or whatever. How could anyone be addicted to Twitter?"
Except it's totally different.
With Facebook, you see your friends' baby pictures. Your grandma tells you what she had for breakfast. Sick friends ask you to pray for them. It's nice and real. It's an extension of your everyday, mundane life.
Twitter is like life on steroids. Everyone is beautiful, hilarious, intelligent, and available (even if they're not). It gives you a chance to create an alter-ego – usually one that you would never bring out in public or mention to your spouse. It is for people who have never met to find each other across the vast electronic void. Also, you find people that are just like you, using #hashtags. So, you end up with a fantastically amazing group of people who think and talk just like you, sometimes who live in the same city. There are 2.62 billion people using social media accounts worldwide, many of those on Twitter. It's no surprise there's so many people to meet.
If you haven't guessed by now, these are all dangerous things, especially for me. As a person who is ACTUALLY an extrovert, who thrives on human interaction with new people, Twitter is immensely attractive. To meet thousands of new people and hear their stories?! Sign me up immediately. Also, some of them will think I'm hot?! Bonus points for making me feel good about myself during my mid-life I-look-like-a-troll-and-am-going-to-die-soon phase.
"Okay," you say. "I get it. Just stop doing it so much. Easy-peasy-lemon-squeezy. No more Twitter addiction."
What a great idea, friend! Why didn't I think of that before. (Note the sarcasm, here)
I've tried to kick my Twitter addiction by:
Limiting my hours
Blocking Twitter on my computer
Deleting it from my phone, iPad, Kindle Fire, mini iPad, laptops, and computer
Scheduling tweets
Setting Twitter as a reward system for all the stuff I'm blowing off. (like, if I do laundry, I get to tweet)
Only getting on Twitter when my phone rings
Setting alarms for when I have to get off and when I can get on
Going on Twitter fasts for 1-2 weeks at a time.
Sounds desperate, right? That's cause it is. And still, after a couple of days of feeling like I'm doing okay and engaging with the real world, I'm back online, Tweeting for the 4th straight hour in a row.
Dammit.
So, I realized tonight that I just needed to pull the plug. Screw all the amazing people that are my actual friends across the world. Screw the 6100 followers that I've managed to maintain and entertain over the last 6 months. Screw the opportunities that I've had to be a part of blog hops, writing groups, and virtual conventions. The fact is, no matter how cool Twitter has been, losing control of my ability to stop is a threat to my job performance, my parenting skills, and my health.
And so, tonight, I deleted my account. Like, for good. Zero hour.
If you've read this far, it's likely that you at least have some inkling of how hard this was for me. Even as I was doing it, I regretted it. "Think of all the people," I thought. "Think of all the amazing people that I'll never get to "see" again." It was like being disowned from my family.
My fingers itched to undo immediately. And then, there was the catch.
I have 30 days before my account is officially deleted forever from Twitter's database. Until then, all I have to do is sign in once to reactivate my account. Already, the siren song of pants jokes and #SixWords is filling up my head…
That's when I decided I would do a countdown. 30 days of me divorcing myself from the Twitter world. An "uncoupling," if you will (mad props to Gwyneth on that one).
Follow if you want. Or don't follow. Either way, I'll be sucking the Twitter poison out of my own fingers, drop by drop. I'm hoping that it gives me my mind back – the one that is able to write more than 140-characters at a time. And, if I'm really lucky, I might be able to gain enough self control to go back to Twitterland and act like a normal, crazy tweep like everyone else.
 
 
You Have Time for Just One More: