Christi Nogle, Hailey Piper, Willow Dawn Becker, and John Langan had a great time talking with Brian Keene Wednesday, April 26, 2023. 
Up for discussion was Mother: Tales of Love and Terror–  what it was like to create an anthology about mothers and how different themes were explored through written narratives.
All agree that writing, and editing, are best when it is approached as a balanced, collaborative effort. It takes a village to create a good story and anthology.
Watch John Langan be forever immortalized as he is frozen in time mid-interview.
Hear Hailey Piper explain that getting a new idea is like being possessed by a demon.
And, share in the writer's thoughts about a question posed by Regina's Tarot and Wirecraft. "If any of your horror stories came to life, which one would you feel least equipped to deal with and why?"
Stay till the end to hear Willow explain our latest anthology project, Playlist of the Damned. You'll learn what you can expect to read about and secrets for how to approach your own submission ideas and writing if you'd like to contribute.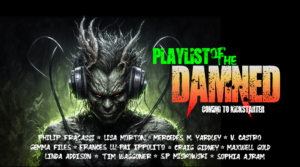 You can also view their awesome chat here: https://www.youtube.com/watch?v=YQ9ZDFnEwuU

The Weird Team is comprised of several unhinged individuals that have a love of life and a lust for adventure. They scour the world to find the strangest, scariest, and most wonderful news in the universe.