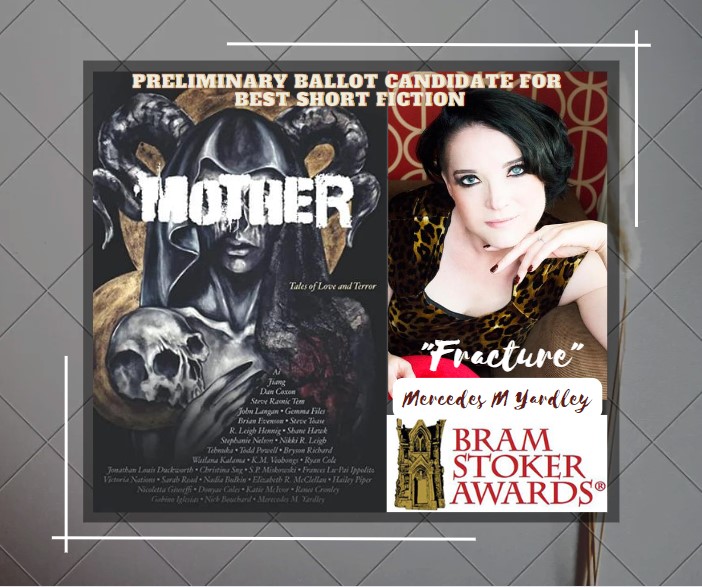 Weird Little Worlds is proud to announce that author Mercedes M. Yardley has been identified as a preliminary ballot candidate for the prestigious Bram Stoker Awards® in Best Short Fiction.
Her story, "Fracture," appears in the 2022 anthology Mother: Tales of Love and Terror published by Weird Little Worlds Press. It is a story about the vulnerable fragility and the sense of protection that mothers have over their children. Because let's face it, motherhood is scary no matter how you look at it.
"Fracture," finds its well-deserved place among the top ten stories in the Bram Stoker Awards® Best Short Fiction category. Final nominations will be announced at the end of February 2023. We at Weird Little Worlds have every confidence that Mercedes will once again shine as the talented author that she is.
Mercedes has been recognized in past years for the following awards:
Mercedes M. Yardley is a dark fantasist who wears poisonous flowers in her hair. She is the author of Beautiful Sorrows, Darling, Pretty Little Dead Girls, and Detritus in Love.
Don't miss this amazing story, "Fracture," in Mother: Tales of Love and Terror. We also recommend her essay on Mother's Day found on Mercedes' own blog. You can read the entire short story for free here.

The Weird Team is comprised of several unhinged individuals that have a love of life and a lust for adventure. They scour the world to find the strangest, scariest, and most wonderful news in the universe.