Summer Readings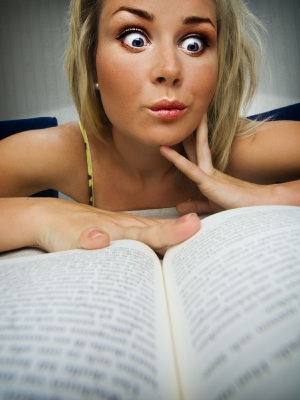 I'm getting a little homesick for school.  I know that sounds totally crazy, but it is true.  My teacher friends are out there somewhere, making lesson plans and figuring out how to make their students do exactly what they want them to.  Meanwhile, back in SAH mom land, I am trying to decide how to effectively use my newfound six hours of uninterrupted time each week.
Although I should count myself lucky, I still feel a little nostalgic about that first couple of weeks of school: The kids are acting like humans for the first and last time of the year; the room smells like fresh paper, glue, and crayons (yes, even in high school); and you get a chance to catch up on all the awesome gossip from the summer break.
The one thing I miss the most is turning in that inevitable summer report.  You know the one.  Your teacher gave you three horrible books to read over the summer and you kept telling yourself you'd get around to it.  Now it's Sunday night before you have to turn your book report in and you are desperately trying to cram in as many quotes from your Cliff's Notes version of "The Great Gatsby" as you can.
So, submitted for your approval tonight, I have brought you the list of books I actually DID read this summer.  You might like some of them.
1.  Fear and Loathing in Las Vegas, Hunter S. Thompson
This classic coming-of-age tale takes place in the gently rolling fields of Massachuesetts…Actually, no. That's just what I thought about to get the horrible taste of grit out of my brain when I finished reading this.
Seriously, though.  Thompson's semi-autobiographical novel about the raging drug life of a journalist in the early 70s just wouldn't let me put it down.  Filled with detailed and hilarious depictions of every possible illegal substance imaginable, it was shocking, horrifying, and hypnotic.  I loved practically every line.
Rating: R – Language, Intimidating Old People, Excessive Drug Use, Naked Puking.
Best Chapter: A Terrible Experience With Extremely Dangerous Drugs
2.  Blackbirds, Chuck Wendig
One day when I was feeling especially depressed about my talent as a writer, I Googled the search terms, "Why does my writing suck so much?" To my surprise the Interweb KNOWS ALL!  The answer came from a very funny man named Chuck Wendig who wrote a hilarious article entitled, "25 Reasons Why You Probably Still Suck as a Writer."  He was right.
So, I went out and picked up a book he had written…yes, it IS the one to the left!  Anyway, it was awesome.  It was about this foul-mouthed chick named Miriam Black who acts a lot like a dude and swears a lot like a long-haul trucker.  Also,  she can tell you when you're going to die.  It wasn't the best thing I've ever read, but it definitely a lot of good moments.  My favorite?  The heroine keeps getting all the bad guys' backstories in these chapter-long rants.  Almost at the very end, she is alone after being beaten to a pulp by the 2nd most horrible person in the world.  She asks how this villain-lady (Harriet) got this way.  The woman begins to launch into her backstory with another chapter of backstory.  Except this time the chapter is literally one sentence long:
"I chopped up my husband and ran him through the garbage disposal."
Winning!!
Rating: R – Knives in eyeballs, epic swearing, weird monkey-sex.
3.  11/22/1963, Stephen King
I've always been an SK fan, so it is no surprise that I spent more time reading this book than all the others put together.  Over the last 30+ years, King has gone from being the Emperor of Darkness to Creepy Uncle Stevie.  He's still a great writer, but it's not going to keep you up at night.
In this newest manifestation of creepiness, high school English teacher Jake Epping gets an opportunity to go back in time and rewrite one of the watershed moments in history: the JFK assassination.  Mostly, this is a nostalgic look at a simpler time, although also I came away from the book with an intimate relationship with Lee Harvey Oswald and his family.  The story really isn't about Oswald, though. It is mostly a tale of love, loss, and the obstinate nature of the past.  Also, it is a tribute to life, dancing, and the idea that all things happen for a reason.
Rating: PG13 – Some language, blood, and 1960s-style shenangigans.
4.  Things My Girlfriend and I Have Argued About, Mil Millington
Mil Millington began his blog as a documentary about the relationships in his life, quickly gaining an impressive online following.  After about a bazillion hits on his site, some publisher decided he should write a book.  What ensues is hysterically written accounts of the arguments he has had with his wife and co-workers thinly veiled by the cheapest of dime-store plots.
The main character Pel, has just been promoted to the head of the IT department, a job in which the previous occupant has mysteriously disappeared.  Despite the flimsy Chinese-gangland shoot-em-up plot twists, this book still manages to have some hilarious bits.  Millington's depictions of his encounters with his very German long-term girlfriend are unflinchingly realistic and ribald.  While I admit I read a couple chapters out loud until I was laughing so hard I cried, I also admit that the lame action flick vibe kept me from finishing the last 50 pages.
Rating: R – Very British use of the F-word, penis jokes, the word "snog."
5.  Speak, Laurie Halse Anderson
A shift in gears, here.  This one probably doesn't count since I have already read it, but I decided that I really wanted to read a GOOD book after the last couple.
Enter Anderson's anti-heroine, Melinda Sordino.  As a new freshman she enters high school with some unfortunate social baggage: she called the cops at a summer party that got a lot of people in trouble.  Shunned by her former friends, she pulls away by refusing as often as possible to speak.  Instead, her inner monologue is catalogued by the novel.  It is at times poignant, scathingly honest, and funny as hell.
Of course, Anderson's young adult fiction novel does have a lesson to be learned. She deftly illuminates the character of Melinda, and the reader is privy to her metamorphosis from reclusive victim to her final moments as a powerful tool for change.
Rating: PG13 – Sarcastic comments about Gym class, smoking in the girls room, reference to rape.
6.  The Graveyard Book, Neil Gaiman
Neil Gaiman finally answered that age-old question: What would it be like to be raised by ghosts and live in the cemetery where the Devil is buried? The answer is The Graveyard Book.  With his usual style, Gaiman delivers a surprisingly touching story about family and one boy's strange place in the universe.
Nobody Owens becomes the ward of an unlikely set of ghost guardians when his entire family is murdered.  The residents of his cemetery raise him as their own, teaching him the secrets of being dead.  Although the killer is still looking for him, Bod manages a relatively normal life including young romance, causing general trouble, and eventually being dragged off to hell by goblins.
Though the characters of this book are well crafted, the plot seems a little weak.  While it is interesting to read about the exploits of a boy growing up raised by the dead, the story doesn't really get going until almost the end of the book.  I would still recommend it to you.
Rating: PG – Attempted murder, completed murder, hellscapes, actual witchcraft.
7.  The Alligator and His Uncle Tooth, Geoffrey Hayes
This 88-page book was published somewhere between the Jurassic and Cretaceous periods.  Still, it has some of the most haunting prose in it that I can recall reading.  Written for ages 8-12, this is a story about love, sacrifice, and adventure that should be required reading in every college philosophy course in the world.
When Corduroy the alligator is sent to visit his aunt by the ocean, he strikes up an unlikely friendship with his old sea-dog Uncle Tooth.  As Corduroy's attention weakens the hardened alligator's exterior, he begins to hear stories of the mariner's days adventuring on the ocean.  Tooth tells tales of dragons, mermaids, rats, and storms.  He even exposes the great reason for his permanent retirement from seafaring.    Corduroy's friendship with Uncle Tooth reignites the fire that once compelled him to quest across the sea, and they go off in search of greater adventures than either one can imagine.
Rating: G – Awesomeness.  Mermaids.  Oranges.
Best Quote, Uncle Tooth: "Having a purpose in life is not doing something great, but doing something well and enjoying what you're doing."
8.  On Writing, Stephen King
Like you didn't know this was going to happen?  Seriously, I'm an addict for SK.  This is probably one of his best books, too.  His unique, often strident voice is so clear here it feels like he's sitting across the coffee table from you, probably while pouring strychnine into someone's drink.
Part memoir, part writing guide, this book is a must-have for a would-be writer.  It is fascinating to find out where he came from and how it was to slog through the same rejection slips that so many writers face.  He also gives amazing advice.  Here are just some of my favorites:
"Some people don't want to hear the truth, but that's not the problem.  The real problem is a writer that won't shoot straight."
"When you write a story, you are telling yourself the story.  When you rewrite, you are taking out all the things that are not the story."
"Sometimes you have to go on when you don't feel like it, and sometimes you are doing good work when it feels like all you're doing is shoveling shit from a sitting position."
"Sooner or later, every story comes out somewhere."
"Say what you see.  Then get on with your story."
Rating: PG13 – Some language, a detailed remembrance of an ear lancing, car crashes.
YAY!!  I did it.
What books did you read this summer?  I'd love to know what they were and if they were good.  Who knows?  Maybe I'll read them, too.  I wonder if I can give myself extra credit….
You Have Time for Just One More: